…
CONNECTIVITY
The All-Electric 500 is embedded with a full range of state-of-the-art connectivity features, both onboard and offboard, including a dedicated mobile app. The FIAT app lets you manage the All-Electric 500 anytime and anywhere. Discover all the features.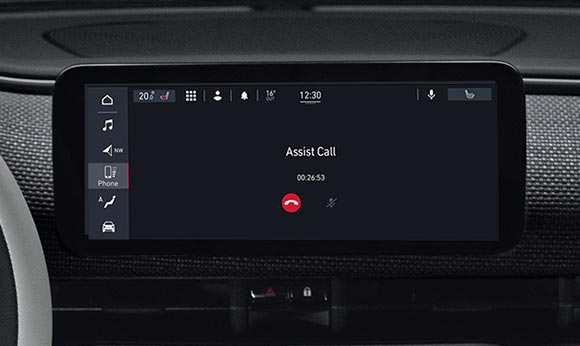 MY ASSISTANT
My Assistant keeps you safer wherever you go. The All-Electric 500 can make emergency calls through a ceiling light*, to contact a dedicated assistant or to request roadside assistance, directly from the vehicle's touchscreen or through the FIAT app. 
*The emergency call is not available from the vehicle's touchscreen or through the FIAT app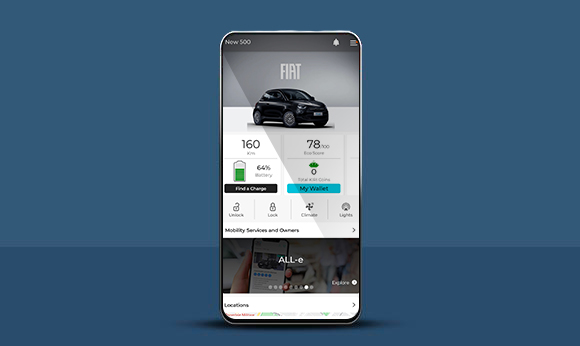 MY REMOTE
With My Remote you can interact with your All-Electric 500 directly from your smartphone and learn how to improve your driving. From the mobile app you can get your Eco Score and receive tips on how to maximise your battery's charge. My Remote also lets you lock and unlock the doors, check the status of your windows, engine start/stop and check the charging level. Plus, it's easy to set and schedule the Air Conditioning before entering and remotely control the vehicle's charging. You can access all of this with the voice-activated At-Home Digital Assistant, too.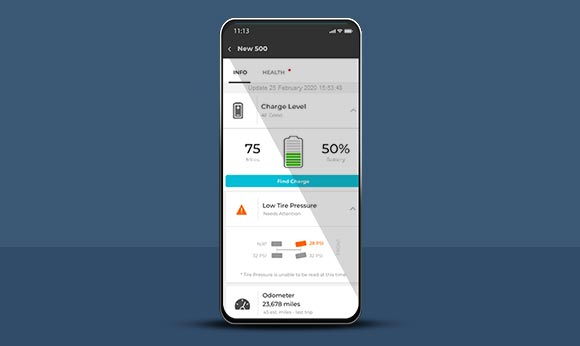 MY CAR
Are you wondering what's happening under the bonnet? No worries, with My Car you can have real-time information about the status of your Fiat electric car. Tyre pressure, odometer, maintenance updates: just open the FIAT app or check directly on-board from radio display.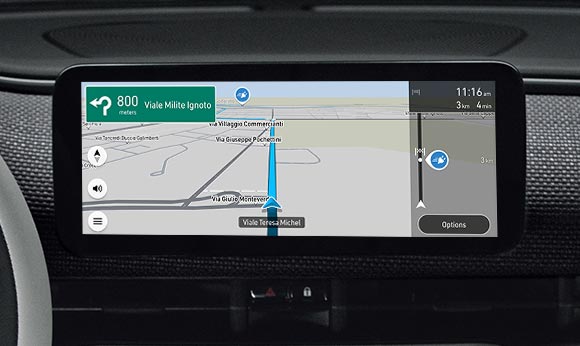 MY NAVIGATION
Reaching your destination has never been so easy. With My Navigation you can share the destination from your FIAT app to your vehicle with a simple tap. Now featuring the latest in EV routing, you can receive tips and recommendations about the best way to get to where you are going and all the charging stations along the way. The infotainment display of your All-Electric 500 instantly shows your destination, with live traffic, weather updates, speed camera notifications and the range availability of your vehicle. Furthermore, both on the display of your radio and on the FIAT mobile app, you can identify the destinations that can be reached with the remaining charge of your car.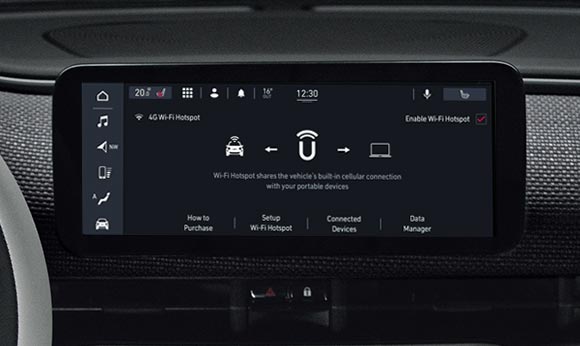 MY WI-FI
With My Wi-Fi*, keep in touch with your digital world. With My Wi-Fi service, the All-Electric 500 will become a Wi-Fi hotspot that you can connect to up to 8 devices. With a free trial period, you and your travel companions can surf online, listen and watch content, work in comfort and also use the Amazon Alexa voice assistant on board. 
*My Wi-Fi is an optional service on the All-Electric 500.